Off hours: Cheng-Chieh Chuang, physician, watercolorist
George Street Journal, 02/02/2001
---
To Cheng-Chieh Chuang, the physical world's elegance is expressed through the patients he treats and the flowers, leaves and landscapes he paints.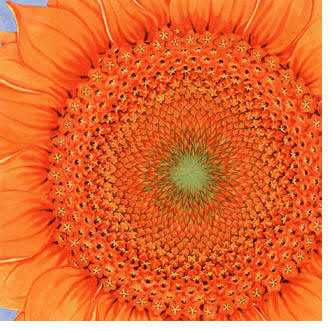 "In family practice, the people I see bring beauty through their lives and personalities. In painting, I attempt to describe with my brushes the sublime of what I see."
A clinical instructor of family medicine, Chuang spends six months a year as a traveling physician in medically underserved regions of the nation. The rest of the time he creates colorful oversized watercolors, like the one at left. Most of his themes result from his travels.

At the moment, Chuang works at health centers in Central Falls and Pawtucket. In mid-February, Chuang will begin a stint as a physician at a family clinic northwest of Salt Lake City.
"I love doing both medicine and painting, and I can't see doing either alone," he said. "Painting can be serene but too solitary at times. Medicine has much more human interactions. There are very nice stories associated with the people I meet.
"But sometimes in medicine, you can only use so much creativity. You cannot be as creative as you can in painting. For me, both complement and supplement each other. One is a vacation from the other."
Chuang has maintained his schedule since finishing a family medicine residency at Memorial Hospital in 1998. His last three years of watercolors are on display until Feb. 7 at the Central Congregational Church Gallery at 296 Angell St. in Providence. Many also can be viewed online.
"At first, I was not sure what to do with my painting. I just painted. After I printed a holiday card of a sunflower I had painted, different friends asked me about buying postcards of my paintings. A friend who sat on the gallery's board prodded me to show my work."
His collection of completed artwork, from a still life of pansies to a striking magenta and white sky over Shiprock, N.M., are on display. The bright colors seem an antidote to the drab grays and brown of winter.
"I paint whatever strikes me, but what I paint has a lot of meaning to me," Chuang said. Indeed, several watercolors carry personal titles, such as "Apples for H-C's Wedding" and "Offering to Mother."
Chuang has painted since his childhood in Taiwan. There he was trained in traditional Chinese brushstroke paintings, which include flowers, birds, landscape and people.
"Traditionally, Chinese artists tended to be versatile scholars who were also well-versed in literature and other areas in the healing arts, including medicine," he said.
As a Brown undergraduate, Chuang studied both studio art and biochemistry.
"The two worlds were not at all that different," he said. "My scientific training in biochemistry and medicine opened up a vista of microscopic and submicroscopic worlds of wonder in the intricate workings of the human body and the world surrounding it."
The Central Congregational Church Gallery is open from 9 a.m. to 5 p.m. weekdays and from 9 a.m. to 1:30 p.m. on Sundays. - Scott J. Turner