George Street Journal, Brown University, Providence, RI March 26, 2004
Practicing the 'art' of medicine
The 'Art and Medicine' course 'was designed to give students a chance to explore the roles of art and art-making in the practice of medicine, to enhance their observation and communication skills - and to encourage them to become creative, sensitive physicians.'
Most medical students learn to observe the human body in a clinical or surgical setting; they often hone their skills studying organisms under a microscope. The students in Cheng-Chieh Chuang's "Art and Medicine" course, however, have exchanged their medical labs and clinics for an artist's studio.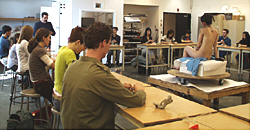 Guest lecturer Curtis Perry, M.D., instructs medical students in the basics of sculpture
A family practitioner in Taunton, Mass., Chuang - who earned his undergraduate degree in biochemistry and studio art from Brown in 1989 and later his M.D. from Yale - is also a talented watercolor artist who began painting as a child growing up in Taiwan. Now Chuang is combining his dual callings to teach "Art and Medicine," an elective offered to first-year medical students. He believes the course, currently in its third year, is important "because it helps to maintain a link between medicine and the humanities." Chinese artists, he noted, are often versatile scholars who are well-versed in literature and the healing arts.
That's an approach that fits with the philosophy behind his class, which was initially organized by a group of medical students.
"It was designed to give students a chance to explore the roles of art and art-making in the practice of medicine, to enhance their observation and communication skills - and to encourage them to become creative, sensitive physicians," said Chuang, who co-directs the course with RISD scientific illustrator Gretchen Halpert. "Our course is a unique collaboration among the medical students, artists, physicians, art therapists and museum curators."
Indeed, each session features a different volunteer lecturer, beginning with RISD's Deborah Wilde, who led the students in a tour of the school's art museum, using individual paintings to sharpen their powers of observation. The group has also made mandalas with Chuang, studied nature drawing with Halpert and spent an afternoon at Hasbro Children's Hospital with its director of arts, Paula Most.
On a recent afternoon in the List Art Center, some 15 first-year medical students surrounded a nude model as guest lecturer Curtis Perry, M.D., instructed them in the basics of sculpture. Perry has been sculpting since childhood, initially working in snow before moving on to more sophisticated mediums, such as bronze. As a physician, Perry is also an artist; he's a plastic surgeon with a large cosmetic practice.
"Fat injection is really sculpting; liposuction is body contouring," he said as he explained the concepts of proportion and contouring to the students. "I love doing fat injections and nasal surgery, because you really can sculpt."
According to several students, the art class is a welcome change of pace from their usual course work. "I'm trying to keep a balance," said Mark Brady, who also works on art projects with nursing home residents every Saturday with two classmates.
Teaching assistants Joyce T. Chen and Sheila Lahijani both took the course last year. Lahijani found it provided an opportunity to relate to her colleagues - and now patients - in a different way.
"It's a nice way of getting to know other students, and it helped me be more understanding of their points of view," she said. "Because it's an elective, it's not stressful.... It takes the focus off illness; instead we can focus on our colleagues and patients."